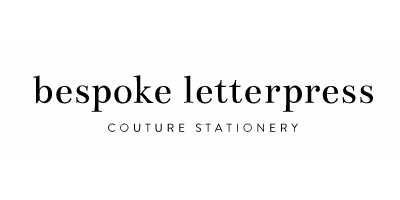 Bespoke Letterpress is one of the world's leading letterpress studios designing and printing fine letterpress and hot foil stationery.
Visit our webpage
Founded by Alischa Herrmann in 2007, what began as a small business based under an old timber house by the sea, Bespoke Letterpress has since grown into an international recognised and celebrated brand.
Now based in the rolling country Australian hills of The Southern Highlands, we design and print our products in Bowral.
We print the beautifully old fashioned way, using antique cast iron machines, printing on imported luxuriously thick paper mixed with patience, perfection and a whole lot of love.
Whilst we love getting our hands inky, we are not just printers - We are also highly awarded graphic designers as well. This powerful combination sees us combining our love of beautifully crafted typography and subtle illustrations, with exquisite print craftsmanship for the most exceptional stationery possible.
We cherish the craftsmanship of letterpress. 
Our range of everyday stationery includes greeting cards, gift tags, desktop stationery, writing sets, notebooks and our world famous double sided gift wrap.
Our ranges are available for purchase through our online store, the new Bowral store, Our Strand store in Sydney, Pop up stores, and select retail boutiques across the globe.
Alischa Herrmann
Bespoke Letterpress Founding Director